Haberman is launching its new premium range of hospital-endorsed nurture and breastfeeding products at Kind + Jugend, Cologne's trade show for kid's first years. The range has been developed to support breastfeeding and a baby's natural feeding technique, in close collaboration with Haberman's European partners at Canpol, medical practitioners, feeding experts, product designers and engineers, and parents.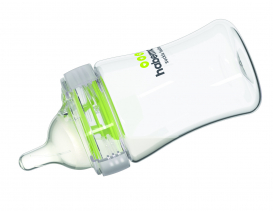 Central to the range is the Haberman Suckle Feeder, an innovative baby bottle that feeds from a closed teat, responding to the natural suckling action of a baby. It works when nursing in an upright position (as recommended by health professionals) andfeatures a teat valve, which shuts between each suckle cycle, so a baby can relax and breathe while feeding, without getting swamped.
The Suckle Feeder is designed to keep the air in the bottle, even bubbles and froth that are formed when milk is shaken.
Commenting, Paul Bottomley, Managing Director of Haberman said: "We have focused our new Suckle Feeder on what is best for baby and we are very excited with this innovative product. Breast suckling engages over 40 individual muscles. For a baby this means better weight control, better speech development, and, consequently, fewer problems such as colic, which is why we have focused on not teaching babies a new way to feed. User trials, now underway in Europe and the UK, are looking very positive."
Editor's Note:
The Kind + Jugend trade show for kid's first years takes place between September 19-22, 2013 at Koelnmesse in Cologne.
The Haberman Suckle Feeder and Breastfeeding & Nurture range can be viewed on the Canpol stand (No 38, Hall 11.2, Aisle D).
Information:
http://habermanbaby.com
Twitter: habermanbaby
Facebook: habermanbaby