anywayup® bird cups are designed for babies age six months+ who are starting to drink independently and are at weaning stage. They are a great product for transition from nursing or bottle-feeding to a regular cup as they improve hand-to-mouth co-ordination. The easy-to-grip handles make it manageable for little hands.
anywayup® bird cups encourage sipping, not guzzling. The rigid and shaped spout helps deliver liquid past the teeth so helping to reduce dental caries.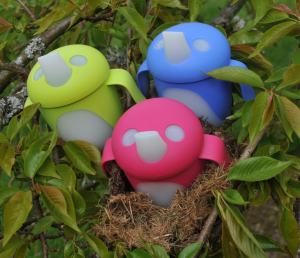 anywayup® bird cups help a child develop so they can enjoy learning to drink independently. When a baby has the motor skills to handle a cup but not the skills to keep a drink from spilling, anywayup® bird cups will provide independence while keeping down the cleaning up!
anywayup® bird shaped cups are colourful, characterful (and non-feathered) and are available in a trio of bright colours – green, raspberry and blue – so have immediate tot appeal but are also designed with parents in mind. Featuring the new improved and fully integrated, Haberman® leak-proof valve, they provide all the thrills with none of the spills.
Not only do they eliminate spillage - yes they really do - but the design also protects growing teeth by allowing a flow of juice only when the child sucks and swallows. Add this to the eye-catching bird shape in contemporary colours and you have the ultimate must-have weaning product.
The Haberman anywayup® bird cup is a training cup (also known as a sippy cup) with a twist-on lid and a spout that lets your child drink without spilling.
Haberman's anywayup® bird cups are strong, easy to clean and are tooled and manufactured in the United Kingdom using the best materials. They are tested to the highest standards and are all BPA free.
Over 40 million non-spill cups and beakers featuring the technology used in the anywayup® bird cup are sold worldwide every year.
Stockists: Available from branches of Sainsburys, Mothercare, John Lewis and Waitrose.
RRP: £4.95
Age: Six months+
Summary:
No assembly needed
Easy to clean
Leak proof
Microwave safe
Capacity: 210ml
Dishwasher safe on top rack 65°
Standards certified: BSN14350
BPA (Bisphenol A) free
Tooled and manufactured in the UK
Features patented technology