A contoured shape for a perfect fit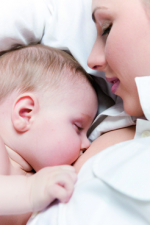 Haberman breast pads are formed with four layers, yet are still ultra thin. Soft edges ensure comfort and discretion.The soft inner layer does not irritate the breast and helps to keep it dry at all times. Two super absorbent middle layers trap the milk inside turning it to gel. An impregnated outer layer holds the gel inside the pad. Adhesive tape helps to keep the pads in the correct place. The pads are breathable helping to avoid sore nipples.
Note: Breast pads should be changed regularly. Disposed of with household waste. This product is not a toy. Keep out of the reach of children. Retain the instructions for future reference. Batch code on the packaging.
What is suckling?
This wonder of natural engineering has helped sustain the human race for millennia. But exactly what happens when your baby feeds? Read article: What is suckling?